I'm back! I hope everyone had a wonderful Christmas and New Year's. I'm looking forward to the fun blog posts I have lined up for this month. And here's a tutorial to start things off!
During college, I worked for a couple years at David's Bridal (before I became David's bride, hehe!). You wouldn't realize it, but your hands and nails get pretty worked--so during that time I had an acrylic French manicure. After keeping it up for a good while I sat down to crunch the numbers on how much I was actually spending a year on nails. And yup, seeing the answer, I stopped then and there.
Fortunately when I became a teacher, my hands were no longer tortured and I didn't miss the acrylics one bit. But I did miss the look of the French manicure.
It was in David's and my beginning years of marriage--as we were especially trying to pinch pennies--that I thought, hey, I wonder if I can do a French mani myself?
And you know what? After a bit of practice I can honestly say I like how it looks when I do it myself just as much (if not more) than a salon manicure. (Of course, I don't dare trim my own cuticles and such, so it's still a treat to go in.) But if I don't like how thin or thick a line is, I can change it. Or if a line looks crooked? No problem.
Want to know the best part? All of these supplies can be purchased for a total of $17.55. And just think of how many manicures you'll get out of that!!
Most items will be at your local Target (buffer, polish, and acetone), but you'll want to add a quick trip to a craft store like Jo-Ann's or Michael's to pick up the paint brush (don't forget that 40% off coupon! always available in their smart phone app). And you may already have a small ramekin at home...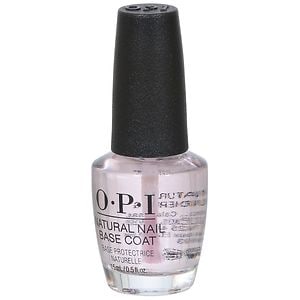 How to Do a French Manicure
Supplies:
2) White polish | Sally Hansen Hard as Nails Extreme Wear Nail Color | White On | $2.49
[Note: I highly recommend this polish. It lasts several days before chipping and is an incredible price! When the bottle of polish thickens over time, add some drops of nail polish remover and shake to thin it again]
3) Clear pink polish | $2.49
[Note: I used a picture of OPI just to show the clear pink, but just browse your Target selection for a cheaper option]
4) Clear top coat | Sally Hansen Hard as Nails Extreme Wear Nail Color | Invisible | $2.49
5)
Acetone
| Target's Up & Up brand is my go to |
$0.97
[Note: Regular nail polish remover isn't strong enough, so be sure you're using 100% acetone.]
Tutorial:
(I don't show filing and buffing your nails, but just note that you want your nails to all be similar lengths. And I prefer a soft squared look for the shape, while others may do a more oval or a sharp square shape. It's all preference!)
And... Ta da!!
Get ready for people to be shocked after you get compliments on your nails and you tell them you did them yourself!
And now I have to share something else with you that's seriously awesome. After filming the video I learned a phenomenal trick for helping nails dry and really SET so they don't smudge. I tend to do my nails before bed and end up watching shows till late as I'm waiting for them to FULLY dry (like the no-longer-tacky-when-doing-the-touch-the-nails-together-test kind of dry)--or else I'll wake up with a slight imprint of my blanket on them. You may already know this trick but it's....
PAM.
Yup, you spray Pam right on your nails (I had a Crisco buttery cooking kind of spray that still did the trick)! After spraying I rinsed my hands in water to get off the excess, and then just kind of lightly dabbed my hands to clean and dry them.

We may need to mess with what works best--letting dry for a certain amount of time and then spraying, or is spraying right away okay--I haven't quite figured that part out yet. I probably let them dry for about 30 minutes when I read the trick and wanted to try it out.
So there you have it! I did this manicure a couple days ago and after a big day of cleaning yesterday I only have one tiny, barely even noticeable chip on one nail. Today I'm going to put on another coat of the clear and that should hold them over a few more days!
I love that I can still do my nails, but they're not a distracting color for my Sign Language families. Pretty hands for a beautiful language! And for so cheap, from the comfort of your own home. Love it.