If I have some money in my clothing budget and am out shopping, the number one thing I tend to get is a top. So I've been trying to branch myself out into the realm of
accessories
.
I love how some fun shoes, some jewels, or a handbag can completely and easily transform an outfit. And in this early mommyhood phase of my life I've come to realize I'll continually be in and out of different clothing sizes and styles (with Ellie there was a cycle of maternity clothes, then nursing, and then finally three different sizes as I worked my way down to my near-pre-pregnancy weight.).

Yet in the midst of all those different clothing sizes, the accessories last. Now that's something--we'll always be able to "fit" into our pre-pregnancy jewelry. :p
Right now,
J. Crew Factory
has some beautiful jewelry on sale, so I made things easy for David and picked out my stocking stuffers. :) #sixyearsofmarriage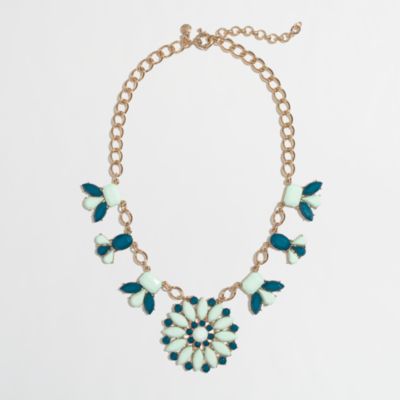 It's been really fun for me to step out and add some statement necklaces to my wardrobe--and now the fun will be in finding different outfits to style them with!
(I've also been trying to not be too matchy-matchy. For instance, I'm thinkin' the peach necklace will look great with navy, gray, or mint. And the blue necklace I'll probably pair with a mustard yellow, brown, or raspberry.)
And the best part is, these pieces really help you accomplish
Stacy and Clinton's Rule #6
(Remember my outfit mantra that has stuck with me ever since I was glued to TLC's What Not to Wear?)
Color, Texture, Pattern, and Shine!